MondayTuesdayWednesdayThursdayFridaySaturdaySunday
Movie Night in the Baha Bar Garden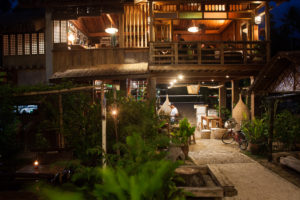 Starts at dusk (6:30pm). Showing 2-3 movies (depending on the length).
Format – 1. Childrens cartoons followed by a 2. comedy movie
and rounding out with 3. drama (time permitting)
Acoutic melodies with Freddy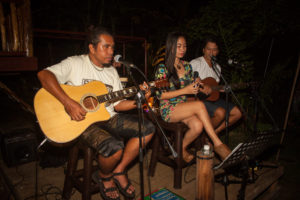 Easy listening guitar, keyboard and vocals with some traditional songs
Locals Night ( 10% off the bill )

Acoustic music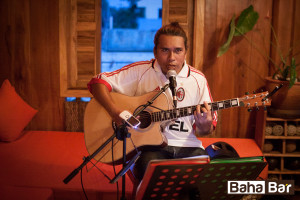 A wide variety of soft classics and alternative songs.
guitar / harmonica solo .
Half price cocktails !
Tribal night with drums and fire-dancing in the Baha Bar garden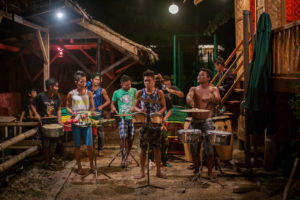 A very popular and loud night with innovative
firedancing from locals including
children from local villages
Outdoor traditional open-fire BBQ in the Baha Bar garden
with live music provided by the 'Ray Charles of Siquijor' Nonoy. Nonoy is known by everyone in Siquijor, he has an amazing voice – a deeply traditional visayan vocalist who also sings some classic rock and blues. The BBQ starts at 6.30-7pm and is one or two pigs slowly roasted over an open fire in the traditional way (from 4pm); there is also a BBQ catch of the day (fish)

Open Band Night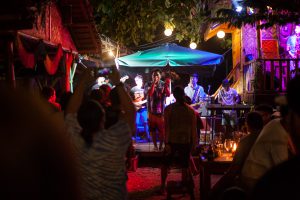 New bands or solo artists from other Philippine islands will be sourced to provide a night of different music backed up by our local reggae band. Not available every Saturday  see
facebook
or local bar signage for updates closer to the performance date.
Reggae provided by local band Soul Site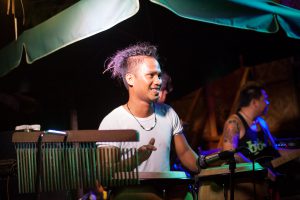 Classic reggae with a local twist, very energetic.