The island was first visited by one of the co-owners in early 2011 as part of geological excursion to follow up on some rock showings listed by the U.S Geological Survey in the 1980's.
After several subsequent visits the idea for Baha Ba'r was born out of a idea to create a restaurant / bar that would appeal to both Filipino's and Westerners reflecting the history of Siquijor while incorporating typical building styles and using the natural resources of the island. Cang Isok house, a famous landmark structure close to Enrique Villanueva on the beach was the inspiration for the design.
The name Baha Ba'r is derived from the word Baha which in both Spanish and the Visayan language means flood or low area. This land on which the bar is now built and adjacent road typically flooded several times a year and was always underwater in times of typhoon until an extensive flood drainage project was completed as part of the Baha Bar construction.
As well as the typical wooden styles common to Siquijor a Spanish influence was also incorporated into the early drawings and the building you see today was the result of nine months of construction with an ever fluid design concept based on the principles, wooden, traditional, basic / bare. All the wood and materials except the cement were derived from local sources. There are 4 different woods used, Mahogany (the main wood construction material), Tugas (the large doors and windows either side at the front by the road), old coconut (the balcony floor overlooking the garden) and Jemilina (the whiter dining tables)
We seek to be a focal point for adventure sports and a place of social interaction between several different peoples of different backgrounds. We hope we have succeeded.
Enjoy Baha Ba'r, we have certainly had fun designing and building this restaurant and bar!
Tata (the builder of Baha Ba'r) and Gen (co owner)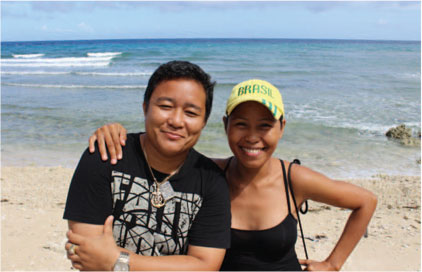 Cang Isok House near Enrique Villanueva (the inspiration for Baha Ba'r)